Email: deschreiber@thomaswolpert.com
David has been an Attorney at Law since 1994.  His emphasis is on Personal Injury Cases.  These include insurance claims, motor vehicle accidents,  slip, and fall injuries due to defective premises, full tort, limited tort, motorcycle accidents, wrongful death, drunk driving accidents, dog bites, unfair trade practices/consumer protection and defective products.
He has successfully handled many hundreds of cases for over two decades, including complex litigation in Federal and Pennsylvania Courts.  This is including all the way to Jury Verdicts.  He began his career as a State's Attorney with the "Governor's Law Firm", called the Office of General Counsel.  He represented the Commonwealth of Pennsylvania in civil actions, including winning cases on appeal before the Commonwealth Court.  You can see a few of those decisions linked below. See what clients say about us.
David has been representing injury victims since 1998 when he went from Government Service to Private Practice.   He is one of the few civil litigation lawyers concentrating in injury cases who has worked exclusively both as a lawyer for injured people and in-house for a large law group defending claims when he was a State's Attorney.
David is honored to help people who come to us to solve their problems.  His goal is to seek truth and accountability while working as hard as possible for our clients.  David has obtained over $7 million in recoveries for clients over 5 years.  Mothers Against Drunk Driving has recommended David to victims of drunk driving accidents who need legal representation.  He is actively involved in local charities, including fundraising for charity, with organizations including the Springford Rotary Club and Immaculate Conception CYO.  David serves as an Arbitrator in Montgomery County.  He is a Past-President of the Rotary Club.
Education:
– West Virginia University, Cum Laude, 1991, B.A., English
– Widener University School of Law, 1994, J.D., Intensive Trial Advocacy Program
Memberships, Honors, Appointments:
-Montgomery County Bar Association, Member
-President, Springford Rotary Club, 2010-11
-Appointed as Arbitrator, Montgomery County Court, Compulsory Arbitration
-Pro Bono Volunteer Matters, including Consumer Protection
Reported/Cited Cases:
-M v. Tiger Machine, Ltd, 2005 US Lexis 21559 (U.S. E.D. Pa. 2005)
-Stevenson v. Commonwealth of PA, 711 A.2d 533 (Pa Cmwlth Ct. 1998)
-Donovan v. Commonwealth of PA, 701 A.2d 310 (Pa. Cmwlth Ct. 1997)
-Day v. Pub School Employees' Ret. Bd., 682 A.2d 398 (Pa. Cmwlth Ct. 1996)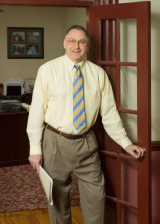 Tom has been an Attorney at Law since 1993.  He was previously a technical writer for a computer company.   His scholastic career was very successful.  After graduating top of his law school class as Valedictorian and winner of the DiBona Moot Court Competition, Tom began practicing as an Associate in the commercial law department of one of Pennsylvania's largest law firms.
In 1995, he commenced his own practice in the West Chester Area, where he resides and still maintains a home office for meeting clients.  As a successful Lawyer, Tom expanded his practice.
Under Tom's guidance as Managing Partner, our Firm has successfully handled hundreds and hundreds of cases for our clients.
His extensive litigation and trial experience in State and Federal Courts includes Employment litigation, Construction Litigation, Personal Injury Litigation, Commercial Litigation, Real Estate Litigation, numerous cases involving disputed insurance coverage and insurance claims litigation after a major loss.
Education
-Villanova University, 1981
-Widener University School of Law, Summa Cum Laude, Class Valedictorian, 1993
-Admitted: 1993, Pennsylvania and New Jersey
Memberships, Honors, Awards
-Order of Barristers; Moot Court Honor Society.
-Winner: 1992 Fred G. DiBona Moot Court Competition;1993 International Association of Defense Counsel Legal Writing Competition.
-Recipient: 12 American Jurisprudence Awards; Anthony J. Santoro Scholarship; Dean's Award.
– Captain, Minnesota Civil Rights Moot Court competition team.
-Author: "Product Liability and Software Implicated in Personal Injury," Defense Counsel Journal, Oct. 1993.
– Member:  Montgomery County Bar Association
– SpringFord Rotary Club, Active Member
Admitted:  2001, Pennsylvania
LawSchool:  WidenerUniversity, Wilmington, J.D., 2000
College:  West Chester University, B.S., 1985
Member:  MontgomeryCounty and Pennsylvania Bar Associations
Tina has been an associate at the Law Offices of Thomas Wolpert, P.C. since 2004. She attended West Chester University and graduated from Widener University School of Law in December of 2000. Tina has over twenty years of legal experience; prior to and while attending law school, she was a paralegal for various firms in the Philadelphia area.

Bar Admissions: Pennsylvania (2008), New Jersey (2008), U.S. District Court for the District of New Jersey (2008), U.S. District Court for the Eastern District of Pennsylvania (2009)
LawSchool: WidenerUniversity, J.D., cum laude, 2008
College: Pennsylvania State University, B.S. Chemical Engineering, 2001
Professional Associations: Montgomery County Bar Association, Pennsylvania Bar Association
Patrick McDonnell, Esq. has been a practicing attorney since 2008.  He handles civil litigation as well as criminal defense matters.  He also has experience in employment matters, including unemployment compensation and workplace discrimination.
Patrick also handles bankruptcy matters for clients.  Prior to attending law school, he was an application engineer for Pall Corporation, a major filter manufacturer.  His engineering background is a useful resource for our firm in unsafe or defective product cases.
Our Attorneys have helped many clients for over 20 years, with personal Injury cases from the following areas:  Royersford, Collegeville, Limerick, Boyertown, Phoenixville, Pottstown, Gilbertsville, Douglassville, Schwenksville, Birdsboro, Chester Springs, Reading, Skippack, Norristown, King of Prussia, Montgomery County, Berks County, Chester County, Philadelphia County, Lancaster County, Delaware County and Eastern Pennsylvania. Free Consult, No Recovery, No Fee. Call 610-792-3304