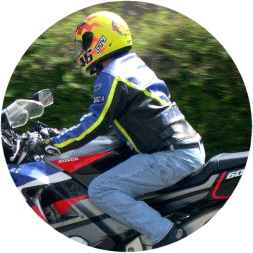 Injured in a motorcycle accident?
Ask your insurance agent or adjuster if you have medical coverage on your policy.
Ask your agent or adjuster if any of your auto insurance coverages will apply to cover you in the motorcycle accident (sometimes there is an exclusion in your auto policy if you were "an occupant" on a motorcycle). Get pictures of the accident scene and the damage to your motorcycle.
For any accessories on your motorcycle, find your receipts! (If a total loss, the insurance company doesn't evaluate motorcycles the same as a car – there's no computer program that they use.  So your receipts are important.
In the future, make sure you keep all receipts as well just in case).
Don't discuss the case with the other person's insurance company.
Contact an experienced personal injury lawyer who has handled motorcycle accident cases.
We have years of experience successfully handling motorcycle cases.
We know the tactics that the insurance company uses!
Ways Motorcycle Accident Insurance Differs From Car Insurance:
When you buy motorcycle insurance in Pennsylvania, it is not quite the same as buying car insurance. There are different things to consider.
The biggest difference is that for car insurance, PA Law requires a minimum coverage of $5,000 for medical benefits, also called "no-fault" coverage.
With motorcycle insurance, Pennsylvania law does not require that you purchase medical coverage. In fact, many motorcycle insurers don't provide medical coverage. You should consider what type of health insurance you have when deciding whether to include medical coverage on your motorcycle policy.  If you don't have medical on your motorcycle policy, then your health insurance would be the primary payor.
Your health insurance may have the right to be reimbursed from any accident settlement – if so, that could reduce what you recover against an at-fault party.
Another difference is that there is no "limited tort" for motorcycle insurance. With Car Insurance in PA, you have to choose either limited or full tort.  Full tort is more expensive but protects your right to make an injury/pain and suffering claim.
With Motorcycle coverage in PA, basically, all claims are full tort.
The other big difference is that under the Pennsylvania Motor Vehicle Financial Responsibility Law, it is harder for a health insurer to "subrogate" or make a lien to be repaid from a car accident settlement or recovery. The health insurance plan must a certain type. But, for motorcycle claims, health insurance has a better chance to be repaid, and as mentioned, affect your net settlement.
More Tips to Consider:
If you have no health insurance, look for a motorcycle insurance company that carries medical coverage.
Make sure you have your motorcycle covered for property damage losses.
You will want to keep a copy of your receipts if you have any upgraded accessories or any custom parts.  You'll need those receipts if your motorcycle is damaged and you are making an insurance claim.
Motorcycle drivers are exposed on their motorcycles, usually with only a helmet and clothing between them and the striking the pavement. According to the National Highway Transportation Safety Administration (NHTSA), Motorcyclists are much more likely to be seriously injured in a crash than someone in another vehicle. http://www.nhtsa.org/
Many local roads such as Route 100, Route 422, Route 73 and the Turnpike have motorcycle accidents where drivers fail to see the motorcycle on the road.
You may have been hurt because another driver failed to see your motorcycle and tried to turn left in front of you.  Or, simply otherwise didn't see you causing the crash and your injuries.
 NHTSA studies also show:
75% of motorcycle accidents involve a collision with another vehicle, where the failure of motorists to recognize motorcycles is the leading cause.
The main behavior of motorist negligence against a motorcycle is making a left-hand turn while the motorcyclist is driving straight.
Weather is a factor in only approximately 2% of accidents involving motorcycles.
The median pre-crash speed in a motorcycle accident is 29 MPH. This is not an unsafe speed as long as it is lawful for the road.
Safety helmets are the most critical factor in preventing death in an accident.
Helmeted riders show less injury to the head, neck, and spine.
The rights of motorcyclists can be difficult to defend, as they are often difficult to see on the road and people often make assumptions, incorrectly, as to who is at fault in a motorcycle injury or accident in Pennsylvania.
As experienced Personal Injury and Accident Lawyers in Pennsylvania serving Montgomery, Chester and BerksCounties, we have handled many cases for clients who have been seriously injured while riding a motorcycle.
We have recently recovered for clients hurt on a motorcycle near Route 100 as well as Route 422 and Route 73
Were you hurt on a motorcycle when a car made a left turn in front of you?  Were you hurt or injured on a motorcycle and have no health insurance or the insurance company won't pay?
We fight for our clients to recover the best result possible.
We have helped many clients for over 20 years, with motorcycle injury or accident cases from the following areas:  Royersford, Collegeville, Limerick, Boyertown, Phoenixville, Pottstown, Gilbertsville, Douglassville, Schwenksville, Birdsboro, Chester Springs, Reading, Skippack, Norristown, King of Prussia, Montgomery County, Berks County, Chester County, Philadelphia County, Lancaster County, Delaware County and Eastern Pennsylvania. Free Consult, No Recovery, No Fee Call 610-792-3304